Service: November 12, 2012 6:00-9:00pm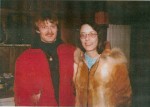 Shirley Ann Evans was born on January 2nd, 1952 to Fred and Helena Lechner in Leola, SD. She was proceded in death by her parents, 3 brothers (Allen, Arnie, and Harvey) and 2 sisters (Irene and Arvilla).
After graduating from Leola High School Shirley did some traveling and moved to Sioux Falls. In 1974 she met James Lee Evans and the two dated for 8 years prior to getting married in 1982. They shared a love of the outdoors, travel, the Pittsburgh Steelers and their many pets. Although they never had any human children of their own they had many nieces and nephews that they spoiled rotten. In total Shirley and Jim spent 38 years together before he passed away on January 13th, 2012 followed by Shirley's passing on November 6th, 2012. They were survived by many family members, friends and their beloved "kids" Rocky and Thor. 
IN LOVING MEMORY OF
Shirley Ann Evans
01/02/1952 – November 6, 2012
MEMORIAL VISITATION
Anderson-Jones-Corcoran
Harrisburg Funeral Chapel
November 12, 2012
6:00-9:00pm
INTERMENT
Hills of Rest Memorial Park
Sioux Falls, SD