Visitation: Visitation with family present will be Sunday from 3-5 p.m. at Anderson-Jones- Corcoran Funeral Chapel in Harrisburg.
Service: Funeral Service will begin at 11:00 a.m. Monday, June 24, 2013 at Anderson-Jones-Corcoran Funeral Chapel in Harrisburg.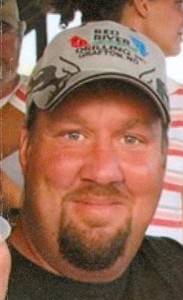 David Edward Christensen 41, passed away on June 19, 2013 as a result of a motorcycle accident.
David was born April 23, 1972 in Montevideo, MN to Nancy Gagnon Christensen and Marty Christensen. The family moved to Ortonville, MN in 1976 where he attended elementary school. He moved to Milbank, SD in 1982 where he attended Milbank High school. He moved to Sioux Falls, SD 1991.
He met Karen Waldner and her children in 2004 and in 2006 they built a house together where they have resided since.
David worked for Fiegen Construction and part-time at Casey's General Store as a delivery driver in Harrisburg. He also worked side jobs for Neilson's Construction building decks.
He was always willing to help out friends and neighbors by finishing their basements and building anything that had to do with wood including making his own fire wood holder.
David loved taking the kids out fishing and was always a loud cheerer at their softball games. He was always willing to put aside his work and help the kids with cars and any needs they had.
David leaves behind his mother, Nancy Christensen (Canton, SD), father, Marty Christensen (Granite Falls, MN), his sister Karyn Christensen and her boyfriend, Ashley Bruns and niece Kendra Hiepler (Watertown, SD), brother, Curtis Christensen (Sioux Falls, SD) and Fiancé, Karen Waldner and her four children, Tyrone, Kurtis, Jeffrey and Tiffany, whom he has raised as his own.