Visitation: Visitation will begin one hour prior to the service.
Service: Funeral services will begin at 11:00 a.m. Friday, October 4, 2013 at Anderson-Jones-Corcoran Funeral Chapel in Harrisburg.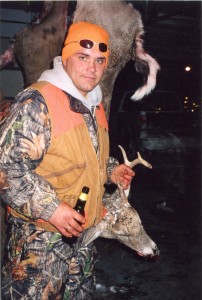 Kyle Leigh Vrondran was born to KC and Denice Vrondran on August 4, 1978 in Sioux Falls, SD.  Kyle was raised by Roger and Denice Styles, where he grew up on the Eastside.  "Kyle was an Eastsider."
                He attended Franklin Elementary, Whittier Middle School, and graduated from Washington High School in 1996.  In High School he was active in softball, football, and wrestled on the Varsity Wrestling Team.  Wrestling was his athletic passion in which he won many matches and received awards.
                He met Jennifer Beaudette and her two children, Cole Joshua and Randalyn Jo in 2001.  They won his heart and were all united as a family on April 6th, 2002 at Grace Lutheran Church.  On August 13th, 2003 the absolute love of his life, Kyleigh Grace, was born and completed his family.
                Kyle made his living as a licensed journeyman plumber. He enjoyed hunting and fishing with his family and friends, his true passion was spending time with his children.
                Grateful for having shared his life are his parents Denice, Roger, and KC of Sioux Falls, SD; his children, Kyleigh, Cole, and Randalyn of Sioux Falls, SD; his brother, Josh of Chicago, his sister, Lindsey (Nathan) of Harrisburg; three grandchildren, Tristen, Isabella, and Izayah of Sioux Falls; grandparents, Grace and Darold Heckenlaible of Madison, SD, Ken and Bonnie Vrondran of Vienna, SD, Roberta Styles of Hartford, SD; four nieces, Addie, Allie, Averie, America; numerous aunts,  uncles, cousins, and friends.
                He was preceded in death by his grandmother, Sis; grandfather, Carl, and childhood friend, Vernon.
                He will be greatly missed by his family.