Visitation: Visitation will be from 6-8 p.m. Friday, October 4, 2013 at Heritage Funeral Home.
Service: Funeral services will be at 1:00 p.m. Saturday, October 5, 2013 at Heritage Funeral Home.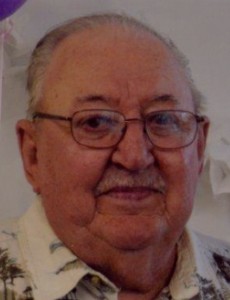 Raymond Gilbert Juhnke, Sr.  was born to William and Emma Juhnke 7 July 1934 in rural Clayton,(Hutchinson County), SD and passed away at 3:25 am on Tuesday 1 Oct 2013.
He is survived by three sons,  Raymond Juhnke  Jr, Watertown SD,  Rick Juhnke (Gwen) Blythe, CA,   Gary Juhnke (Leanne)  Harrisburg, SD ;  one daughter Robin (Gregg) Thompson, Harrisburg, SD., 15 grandchildren, 23 great grandchildren, two  brothers Harold Juhnke of Olivet, SD and Jerald Juhnke of Sioux Falls, Greg (Jan) Koch of Sioux Falls, SD, many nieces, nephews, friends.
Preceded in death by his wife Lucille (Lucy), daughter Carol (Juhnke) Koch, his parents, William and Emma Juhnke, two sisters, and three brothers, one great granddaughter Gabrielle Bohl.
He was married on July 7th 1934 in Lurvene, MN. Lived with his wife and children where ever that may have been, due to his work in road construction
He shared a passion for camping, fishing, hunting, Nascar racing, and get togethers to visit. Never wanted to be a bother to anyone, but always enjoyed company.
He worked in construction for a number of different contractors and retired to Olivet, SD in 1995.  He operated rubber tire scrapers, blades, dozers, black top laydown  and roller,  but his favorite was the rubber tire scrapers,  he worked on Interstate 29 from the Iowa border to Sioux Falls, SD and Interstate 90 from the Minnesota border to Wall, SD . When asked if he had to do it all over again and he said that he would do it the same way, without any changes.
His favorite foods were anything that mom cooked for him, hamburger sauerkraut and dough, cheese dumpling, cabbage pigs in the blanket, he always enjoyed a good steak whether at home or out to eat which he enjoyed with friends and family.