Visitation: Visitation will be Saturday from 5:00-9:00pm with family present 6:00-8:00pm.
Service: A celebration of life service will be held 7:00pm Saturday, February 8, 2014 at Anderson-Jones-Corcoran Harrisburg Chapel.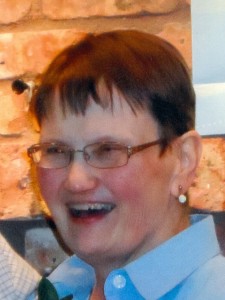 Patricia Ann Oleson, daughter, of Leone (Boulis) and Richard Bakewell, was born October 8th, 1947 in Sioux Falls, SD.  She graduated from Waubay High School in 1964.  Following graduation she married Richard Oakland in 1966.  They resided in Sioux Falls, SD and had three children, Adam, Aaron and Amanda.  In her younger years she taught Sunday school and volunteered in the nursery at Eastside Lutheran Church.  She worked as a home daycare provider for 16 years and then worked at US West for 13 years where she became well known.  She married Joseph Oleson in 2013 whom she spent the rest of her life with.
In her free time she enjoyed bingo, gambling and spending time with her family especially her grandkids.  She also enjoyed the scenic view of The Falls with her husband Joseph.  She was aloving mother, wife, daughter and sister who will be greatly missed by all who were blessed to have her in their lives.
Grateful for having shared her life are her husband, Joseph Oleson, Sioux Falls, SD; her child, Amanda (Nate) Oakland, Sioux Falls; daughter-in-law, Gwen, Sioux Falls, SD; her grandchildren, Aaron, Amber, Kade and Kyler, Sioux Falls; her siblings, Mike (Muriel) Bakewell, Sioux Falls, Linda (Lawrence) Temple, AZ, Margaret (Dick) Snover, Watertown, SD, and George (Kim), Bakewell, Wahpeton,ND; Bob Hoff, Sioux Falls, SD.
She is preceded in death by her mother and father, Leone and Richard Bakewell; her brother, Bill Hoff; her husband Richard Oakland; her son, Adam Oakland; and her son, Aaron Oakland.
A celebration of life service will be held 7:00pm Saturday, February 8, 2014 at Anderson-Jones-Corcoran Harrisburg Chapel.  Visitation will be Saturday from 5:00-9:00pm with family present 6:00-8:00pm. www harrisburgchapel.com