Service: A celebration of his life will be 3:00-5:00pm Saturday, January 2, 2016 at Anderson-Jones-Corcoran Harrisburg Funeral Chapel.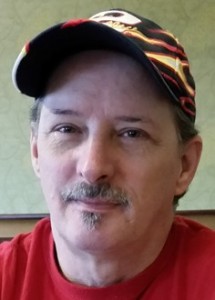 Randy Stewart Ver Meer, 61, of Harrisburg, SD died on Tuesday, December 29th at his home.
Randy Stewart Ver Meer, son of Walter and Iris (Massey) Ver Meer was born December 8, 1954 at Offutt Air Force Base in Omaha, NE.  He was raised in a military family and lived overseas in Japan, Germany, and multiple states in the U.S. before settling in Rock Rapids, IA in 1971.  He graduated from Central Lyon High School in 1973 and entered the Air Force.  He was honorably discharged in 1977.  He was united in marriage with Janelle Groen in 1974.  They had 2 children, Brian Ver Meer and Nicole (Ver Meer) Kruger.  The couple later divorced.  Randy worked at Sudenga Industries and Anderson Alignment Services.  He then attended vocational school and became a mechanic.  In 1983 he was united in marriage to Denise (Heitkamp) Ver Meer and resided in Northwest Iowa.  They had 1 child, Jordan Ver Meer.  In 2004 they moved to Harrisburg, SD where he currently resided and worked for Bell, Inc.
Randy was very proud of his mother's Norther Irish heritage and spoke often of it.  Randy's love of being a "motorhead" dates back to his early teen years.  At 14 years old, Randy was known to tear apart engines and rebuild them, and he knew where every screw, nut, and bolt went without an instruction manual.  He was working on restoring a '62 Chevy Nova and helped restore a '60 Chevy Biscayne.  His biggest love was his '66 Chevelle SuperSport.  Randy loved everything cars, not only fixing them but also attending car shows and racing them.  He was part of a dirt track racing team in 1979 and enjoyed years of watching and attending NASCAR races.  Randy had a quick-witted sense of humor and was famous for his one-liners.  He particularly enjoyed telling stories of his teenage years when he would throw parties then outrun his deputy sheriff father by hitting a toggle switch on his tail lights to make the car "disappear" on gravel roads in Lyon County.  In his spare time, Randy enjoyed doing handyman work on their homes as well as working part time at Max Theaters in Sibley, IA.  Randy and Denise always had animals in their homes over the years including dogs, cats, and fish.  His love of animals extended outside their home.  On top of working full time, he also worked at local pet shops.  Using his aquatic expertise, he created and maintained an exceptional salt water fish tank.  At home, Randy's pride and joy was his pond in the back yard.  Denise will tell you, a lot of blood, sweat, and tears went into the pond over the years.  The effort was well worth it- it was beautiful!  Randy's love of the USA and everything patriotic was evident, not only in what he wore, but also in his home décor (he loved eagles).  Even with his darts you could see his love for the USA.  He had a set of red, white, and blue darts that he used to throw when he was in a dart league!
Grateful for having shared his life are: wife of 32 years Denise, son Brian (Vicki) Ver Meer, Kilmarnock, VA; daughter Nicole (Jeff) Kruger, George, IA; son Jordan Ver Meer (Briana Epp), Sioux Falls, SD; his grandchildren Morgan and Alexis Ver Meer, Lane and Keslee Kruger; a sister Sandra (Ver Meer) Daugherty; brother in law Dave (Jane) Heitkamp; sister in law Shorty (Bob) Krogman and numerous nieces and nephews and great nieces and nephews.     Randy was preceded in death by: his parents, Walter and Iris Ver Meer; his mother and father-in-law, Barney and Alma Heitkamp; brother-in-law, Jack Daugherty; and sister-in-law, Deb Heitkamp. A memorial service with military honors will be held in May 2016.
   A celebration of his life will be 3:00-5:00pm Saturday, January 2, 2016 at Anderson-Jones-Corcoran Harrisburg Funeral Chapel.