Visitation: 5:00-9:00 PM Tuesday, September 6, 2016
Service: 11:00am Wednesday, September 7, 2016 at Shalom Lutheran Church, Harrisburg, SD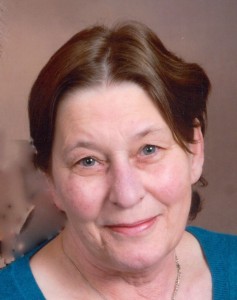 Funeral services will be 11:00am Wednesday, September 7, 2016 at Shalom Lutheran Church in Harrisburg, SD.  Visitation will be Tuesday, September 6, 2016 from 5:00-9:00pm at Anderson-Jones-Corcoran Harrisburg Chapel with family present from 6:00-8:00pm.
Karen Kay (Kaegbein) Henjum passed away at the age of 59 at Sanford Medical Center, following her long fight with cancer. Karen was born on March 6, 1957, at Howard Lake, Minnesota, to Charles and Roylene (Randall) Kaegbein. Karen was the middle child of five children. At the age of 15, Karen lost her mother, so was then raised by her grandparents Aaron and Divina Kaegbein. She graduated from high school in 1975 from Princeton, Minnesota.
On December 20, 1975, Karen was united in marriage to the love of her life, Jim Henjum. They built a home on an acreage near Harrisburg, SD. Together, they had 3 children, which in their younger years, Karen was blessed to be a stay at home mom. She also took in many neighbors' kids, who became like her own children and family.
In 1982, Jim and Karen opened their own auto body shop. She was always a great help to Jim running the family business. When their children were all in school, Karen went back into the workforce. She worked at the Harrisburg Post Office for many years. As her children grew, one of her greatest joys was watching them in their activities. She was their biggest fan in the crowd.
Karen enjoyed cooking and baking. She always had fresh baked goodies. Karen made the best chocolate chip cookies and pumpkin pie! After she became a grandmother, she enjoyed having her grandkids over to spend time with them. They enjoyed learning to bake from grandma. Karen always made sure the animals of nature were fed. She enjoyed having the grandkids help her feed the birds.
Survivors include her husband Jim, children, Ronald (DeeAnn) and their children, Tanner, Maizy, Riley, Kale, and Kendall. Sheila and her children, Jesse and Andrew; John and his daughter Khloe. Special nephew Ronald Vagt, one brother, David Kaegbein, and two sisters Roylene Williams and Teresa Helus along with numerous nieces and nephews. Karen was preceded in death by her parents, Charles and Roylene Kaegbein and a sister, Wanda Kaegbein.