Visitation: Visitation will be 5:00-7:00pm Monday, December 26, 2016 at Anderson Jones Corcoran Harrisburg Funeral Chapel.
Service: Funeral services will be 1:30 pm Tuesday, December 27, 2016 at Shalom Lutheran Church, Harrisburg, SD.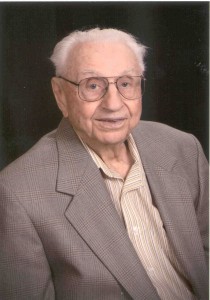 Leslie Arthur Schuer, 93, passed away December 22, 2016 at the Sanford Foundation Hospice Cottage.
Leslie Arthur Schuer, son of George and Dena (Cassen) Schuer was born  March 15, 1923 on a farm near Emery, SD.  Leslie attended school in Emery and graduated from Emery High School. He worked on the farm  following graduation.
Leslie was united in marriage with Evelyn Haak on June 5, 1949 in  Howard, SD.  The couple moved to their current farm near Harrisburg,  SD in 1954.  Leslie farmed until the age of 72.  They continued to  live on the family farm until about 5 years ago, when Leslie and  Evelyn moved to   Sioux Falls, SD.  He enjoyed farming and didn't  consider it work.  He would always say, "I play in the dirt".  The  couple also enjoyed traveling and have visited all 50 states and 16  countries.
Grateful for having shared his life is his wife of 67 years, Evelyn;  his children, Paulette (Tom Bulfer) Bell and her children (Brad, Robin  and Travis), Richard (Julie) Schuer and their children (Craig and  Lorelie), RoSchell (David) Vinzant and their children (Rachael, Renae,  and Ryan), ten great grandchildren, and his sister Velma (LeVern)  Jacobson.
Leslie was preceded in death by his parents, George and Dena Schuer,  his brother, Wilbur (Lucille) Schuer and grandson-in-law Kier Murphy.
Funeral services will be 1:30 pm Tuesday, December 27, 2016 at Shalom  Lutheran Church, Harrisburg, SD.  Visitation will be 5:00-7:00pm  Monday, December 26, 2016 at Anderson Jones Corcoran Harrisburg  Funeral Chapel harrisburgchapel.com