Visitation: Monday, May 15, 2015 at Anderson-Jones-Corcoran Harrisburg Chapel from 6:00-8:00pm.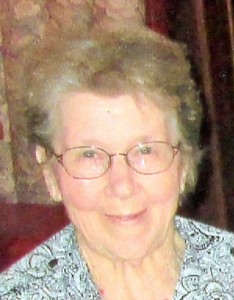 Miriam R. Anderson, 79, passed away May 10, 2017 at Sanford USD Medical Center.
She was born on a farm near Alcester, SD on October 13, 1937 to Hazel Oie. She lived with her grandparents and two uncles while she attended Ring rural school.  Miriam graduated from Alcester High School in 1955.  She married Eugene Anderson and lived in the Alcester area until moving to Harrisburg where they lived for the next 50 years.  The family did a lot of traveling with a camping trailer and visited most of the United States.  After their children were older, she worked for several insurance companies until retirement.
Eugene and Miriam drove many miles in their Model A Ford. They belonged to the Model A Ford Club, the Horseless Carriage Club, Granite Threshermen's Association, SD Archaeological Society, Minnehaha County Historical Society, Westerners International, and the Sioux Falls Active Generations.  They still loved to travel and visit friends and family.
She leaves to mourn: Her husband, Gene; son, David Anderson and son-in-law, John Colburn, Pittsburgh, PA; daughter, Elaine (Mike) Rieck, Mitchell, SD; brothers, Don (Tamara) , Gene, Gerry (Diane), Richard (Gladys) Ambroson and a sister, Jo Ann Ambroson; grandsons, Eric Anderson (fiancé, Amanda Schager), Sioux Falls, Matthew Rieck, Sioux Falls, and Patrick Rieck, Mitchell, and many other relatives and friends.
In lieu of flowers, memorials may be directed to Granite Threshermen's Association or Active Generations.
A celebration of life visitation will be 6:00-8:00 pm Monday, May 15, 2017 at Anderson-Jones-Corcoran Harrisburg Funeral Chapel.