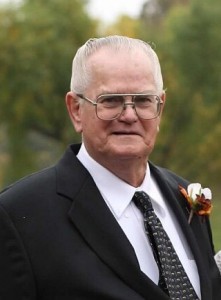 Eugene Clifford Roberts passed away at his home in Sioux Falls, SD on June 19, 2017 at the age of 82.
Eugene Roberts, son of Clifford and Susan (Simpson) Roberts was born on May 2, 1935 in Sioux Falls, SD. Gene graduated from Washington High School in Sioux Falls and joined the United States Air Force following graduation, where he appreciated the opportunity to travel internationally.
Gene was united in marriage with Marjorie Krier on September 25, 1965 in Larchwood, IA. Gene worked as a cement finisher and commercial truck driver until his retirement. He enjoyed woodworking, hunting, reading novels and listening to classical music. A lifelong self-directed scholar, he studied various topics in history and science. Recently, he had taken a particular interest in the geographical history of South Dakota.
Grateful for having shared his life is his wife of 51 years, Marge; their children, Jeffery (Patty) Roberts and their children (Angela, Katie and Jon), Jennifer (Tracy) Thompson and their son (Jake), and Heather (Tom) Debaise and their children (Marshall and Levi), great grandson (Axel). Surviving siblings include Edwin (Dace) Roberts, Theora (Tom) McVay; Hope Newton; Lenore Jansons. sister in laws Karen Roberts; Imants Jansons and Brenda Roberts.
Gene was preceded in death by his parents, Clifford and Susan Roberts, his daughter, Jeanie Roberts, his grandson, William Ellis; Siblings Richard (Marcella) Roberts; Lou Ella (Robert) Olson; James Roberts; Laurence Roberts; brother and sister in laws, Carter Newton and Imants Jansons.
Memorial visitation will be Saturday, June 24, 2017 from 3:00 pm to 5:00 pm at Anderson Jones Corcoran Harrisburg Funeral Chapel.