Visitation: 1:00-3:00pm Saturday, August 19, 2017 at Anderson Jones Corcoran Harrisburg Chapel.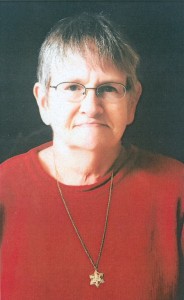 Robin L. Wantoch 72 of Sioux Falls died Friday, August 4th peacefully at Covington Care Nursing Home. A Celebration of Life is planned for 1pm Saturday, August 19th at Anderson Jones Corcoran Funeral Home in Harrisburg.
Robin L. Wantoch (Wildt) was born June 25, 1945 in San Francisco, CA to Catherine Wildt who later married Carroll Fuller. From that union she gained two sisters. She spent her childhood in Lincoln, NE and graduated High School in Huron, SD.
On August 14, 1969 she married Roger C. Wantoch in Luverne, MN. In 1970 they moved to Pierre, SD where they raised four children. While in Pierre she was mainly a homemaker. She did have several part time jobs including a receptionist with H & R Block, sales associate with Lucas & Thiem and lastly Airport Security at the Pierre Airport.
Her greatest joy was spending time with her children and grandchildren. She loved playing (cheating at) games. Some of her favorites were Yahtzee, Backgammon, Checkers and UNO. Some of her other hobbies included reading, puzzles, crafts and baking. She spent a lot of time making gifts for friends and family such as plastic canvas kleenex holders and placemats. For many years she decorated elaborate cakes for her children. She had a love for animals and had many over the years from cats & dogs to guinea pigs & hamsters to turtles and even a skunk.
In their younger years her and Roger spent a lot of time on their motorcycle driving around the Pierre area or touring the Black Hills. They also spent most of their summers camping. Shortly after Roger's passing in 2004 she moved to Harrisburg, SD. She lived there until late 2016 when she moved into Covington Care Nursing Home in Sioux Falls, SD where she quickly made friends with the staff and residents.
Robin is survived by three sons, Wade Wantoch of Brookings, SD; Chad Wantoch and wife, Stacey of Sioux Falls, SD; Lance Wantoch and fiance' Ginny of Brandon, SD. One daughter, Kim Reiners and husband Bill of Harrisburg, SD. One sister, Carol Lou Mansfield of Pope, Valley, CA, nine grandchildren and two great grandchildren.
She was preceded in death by her parents, husband and sister.