Service: A graveside service will be held 10:00 am Saturday, August 12, 2017 at Woodlawn Cemetery Columbarium, Sioux Falls, SD.
Celebration of Life for Betty Ruth Hebert
  November 2, 1931- July 30 2017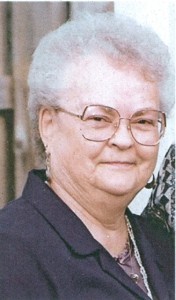 Betty was born to Henry and Ruth (Rhea) Latendresse at Garfield Township, Clay County South Dakota.  She graduated from Beresford High School in 1949.
Betty was united in marriage to Leo Paul Hebert June 15, 1950 in Beresford, SD at St. Teresa Catholic Church.
Paul and Betty spent most of their life in Alcester to raise their family of 4 boys and a daughter. After the kids were older Betty helped Paul with the 2 businesses they owned. She also worked at Morningside Manor in Alcester as an activities director until retiring with Paul so they could travel.
They spent many weekends camping at Swan Lake, and Lewis and Clark Lake with the kids and later the grandkids would join them.  Betty and Paul loved to dance and spent many nights dancing at the Arkota and other ballrooms in the area with friends.
They traveled many miles in their motor homes, after retiring in 1987.They have visited all 48 states and Alaska and Hawaii. They also went on several cruises one to Alaska, one in the Caribbean and the last was through the Panama Canal.
In 1997 they sold their Alcester home and bought their retirement home in Mesa AZ where they lived and still traveled until Paul passed away in 2011.
Betty moved back to South Dakota where she would be closer to family, she lived at  Assisted Living at Prairie Creek and the Lodge in Sioux Falls where she made many friends and played lots of cards. Her final days were spent at Bethesda in Beresford SD.
One of Betty's favorite past times was to play cards with anyone, any time. Her favorite game was Hand n Foot; she also played other card games. She knitted numerous quilts, and potholders for family and friends. She made baby blankets and hats for babies in the hospital. Betty also enjoyed tying quilts and Hardanger Embroidery.
Betty was preceded in death by her parents, a brother Walden, and a sister Peg, her husband Paul, a son Curtis and a great- grandson Owen Roslyn Binnebose.
Betty is survived by her children David and his wife Sherry, Aurora CO;  Larry and his wife Susie, Bulverde TX; Kevin and his wife Linda, Sioux Falls SD; Susan Sioux Falls SD.   Betty has 12 grandchildren and 20 great-grandchildren. Her brother Louis (Joan) Latendresse, Beresford,  a niece Alona Masters, Sioux Falls SD. Many more family and friends.
Family will be present to visit at Living Word FLC   7901 S. Meridith Ave. Sioux Falls SD    Sunday August 27, 2017  from 2-4.