Service: A celebration of life service will be held at 2:00pm Thursday, February 20, 2020 at Anderson Jones Corcoran Harrisburg Funeral Chapel, 110 W. Willow, Harrisburg, SD. Visitation will be 5:00-7:00pm Wednesday, February 19, 2020 with family present to greet friends in our chapel.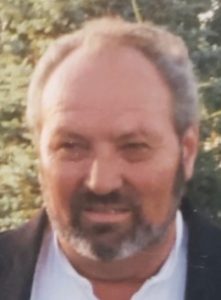 Johnnie Larry Ovre, Jr., was born September 22, 1942 in Canton, SD, to John and Mary (Pullman) Ovre. He attended Grand Valley Country School and Canton High School. Johnnie married Karen on June 21, 1998, in Harrisburg.
In Johnnie's younger years, he worked for Farmer's Elevator of Canton and then traveled around installing underground cable. He also worked as a crane operator for Jerke's Crane Service. Johnnie spent many years as an over the road truck driver until his retirement eight years ago. He has always enjoyed reading westerns, riding motorcycle, shooting guns, asparagus hunting and spending time with friends, family and his many grandchildren and great-grandchildren.
Johnnie was always up for sharing a cold one with friends and sharing many, many stories. He truly enjoyed good food and could definitely share some solid recommendations as to where to eat (or not to eat) in any of the fifty states! During his retirement, Johnnie and Karen enjoyed riding motorcycle, visiting casinos and gardening. Since the time he had his heart valve replaced with a pig valve, he spent a lot of time rutting around in the garden!
Johnnie was a member of the Harrisburg Lions Club and was also a proud recipient of the "Million Mile Accident Free Club" which is an amazing accomplishment he acquired while working for Johnson Feed Inc. (JFI) of Canton.
Johnnie had been a resident at Good Samaritan Society, Sioux Falls due to declining health following surgery in September 2019. He passed away peacefully surrounded by loved ones on Sunday, February 16th.
Survivors include his wife, Karen; children, Douglas (Deb) Ovre, Jeanne (Paul) Oakland, Jennifer (Scott) Lee, David Noonan; 9 grandchildren, Patrick, Daphne, Jake, Hailey (Sean Christensen), Cody, Austin, Tanner (Megan), Kaden, Ross; 10 great grandchildren, Erika, Alyssa, Daython, Jayvon, Malea, Sean Jr., Kazlee, Eugenia, Hunter, Maddie; siblings, Donnie (Claylene) Ovre and Jerry (Judy) Ovre.
He was preceded in death by his parents, stepson, Steven Noonan and sister, Betty Quien.
A celebration of life service will be held at 2:00pm Thursday, February 20, 2020 at Anderson Jones Corcoran Harrisburg Funeral Chapel, 110 W. Willow, Harrisburg, SD. Visitation will be 5:00-7:00pm Wednesday, February 19, 2020 with family present to greet friends in our chapel. www.harrisburgchapel.com