Visitation: 2:00-5:00pm Saturday, March 14, 2020 at Anderson Jones Corcoran Harrisburg Chapel.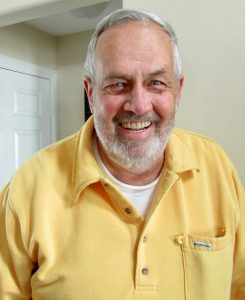 On Tuesday, March 3, Gerry Pasco, 77, passed away unexpectedly from undiagnosed pancreatic cancer complications at Sanford Hospital in Sioux Falls, SD. A celebration of Gerry's life will be held from 2 pm to 5 pm at the Anderson Jones Corcoran Funeral Home, 110 W. Willow Street, Harrisburg, SD 57032.
Gerry Robert Pasco was born February 21, 1943, in Brookings, SD, to Duane and Aldith Pasco, the youngest of four children. Gerry grew up in the McKennan Park area, working for his Dad's road construction business. He attended Mark Twain Elementary School and Washington High School, graduating in 1961. Gerry joined the U.S. Air Force following graduation, serving in Morocco and Denver for four years as an Air Force DJ.
After being honorably discharged, Gerry returned to Sioux Falls, SD, and reconnected with his high school sweetheart Martha Tyler. They were married on June 4, 1966, at the Presbyterian Chapel. Martha and Gerry remained in Sioux Falls for a short time before moving to Colorado Springs, CO. They became the proud parents of son Jason in 1970. Three years later, they moved their family back to Sioux Falls. And in 1974, they welcomed their second son Tyler.
Gerry's love of sports continued throughout his life. He coached both of his sons' baseball and basketball teams and refereed YMCA basketball for several years. His favorite sport was football, and he enjoyed watching and attending Minnesota Vikings football games. Gerry also loved to travel and was an avid collector of many things, especially Hot Wheels cars.
Gerry worked in the insurance and pawn business for several years before opening the Happy Hocker Pawn Shop in 1989. After ten years, he returned to the insurance business, working for the Insurance Connection until retiring and moving to Hendricks, MN in 2008. Martha and Gerry loved Lake Hendricks and were heavily involved in many annual community events including the Chocolate Auction, Santa House, and 4th of July Parade.
He is survived by his wife of 53 years, Martha of Sioux Falls, brother Greg (Carolyn) of Pleasanton, CA, son Tyler (Jess) of Sioux Falls, daughter Terri Jeffries of Littleton, CO, five grandchildren, one great-grandchild, as well as many other relatives. He was proceeded in death by his parents, sisters Kay Myers and Gwynn Loesch, and son Jason.
The family asks that donations be made to the Gerry Pasco Memorial Fund (https://www.gofundme.com/f/gerry-pasco-memorial-fund) in lieu of sending flowers. Additional Celebration of Life details can be found at https://www.facebook.com/events/207900877233166/.