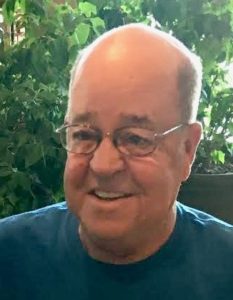 It is with heavy hearts that we announce the peaceful passing of Hans Magnus (Chris) Christofferson on Wednesday, August 5, 2020 at his beloved river home in Platte SD.
Chris was born in Sioux Falls, SD, on August 7, 1945 to Magnus and Thelma Christofferson. He grew up in Sioux Falls and graduated from Washington High School in 1963. As a young man, he served in the Air Force during Vietnam (1964-68) where he was stationed at Wethersfield Air Force Base in England and was a member of the Tactical Fighter Command.
Following his honorable discharge, Chris worked at Terrace Park Dairy (1968-1981). His career path eventually moved in another direction when he became a business broker for regional grocery stores until his retirement in 2018. It was also during this time period that he became a father and raised his children in Sioux Falls.
Chris was an avid outdoorsman and shared his passion for hunting and fishing—especially fishing—with everyone he knew and loved. Countless children and adults have been gladly introduced to the sport of fishing thanks to Chris' generosity and willingness to share his talents. When he wasn't on the river or in the field, he also enjoyed bowling, softball, golf and darts.
Chris was preceded in death by his parents Magnus and Thelma Christofferson, brother Lyle and close friends Shirley Haacke and Ron Rollog.
Left to cherish his memory, Chris is survived by his life partner Shelly Grotjohn, daughter Shaila (Lauren) Christofferson, sons Dana and Jon Christofferson, sister Linda Maydole, sister-in-law Deb Christofferson, three grandchildren Kristina Christofferson, Lee Brown and Miles Christofferson, nephews Lance Frisbee and Dustin Christofferson, nieces Leslie (Michael) Frisbee-Moeller and Andrea (Rick) Shea, "furever" friend Lily and numerous loved ones.
A Celebration of Life service will take place on Tuesday, August 11, 2020 at the Anderson Jones Corcoran Harrisburg Funeral Chapel, Harrisburg, SD, 5-9 pm.  Due to COVID 19 the family request you wear a mask for the service.