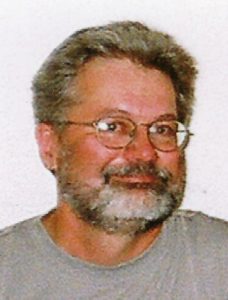 Gordon Ruark passed away on February 24, 2021 due to complications from congestive heart failure.
Gordon Ruark was the first-born child of Roger and Ardis Ruark arriving on October 26, 1954. His early years were spent in small towns in South Dakota as his parents found work as newly graduated teachers, before moving to Mitchell.
Gordon graduated from Mitchell High School in 1972 and after high school attended Dakota Wesleyan University in Mitchell where he met his future wife Colleen Hurlburt. They were married in 1974 and in 1980 became the proud parents of Ciciley Kay.
When the marriage ended, Gordon went back to school at Black Hills State College and received his bachelor's degree in Special Education. He served as a Special Education Teacher in the Lead-Deadwood school system and later in Casper, WY.
He remained in Casper after retiring early from the school system, working odd jobs and eventually started his own landscaping company in 2008. A man of faith, Gordon was a member of the Soldiers of Light fellowship where he tirelessly ran the lighting and sound system. He was active in the Christian Motorcycle Club and toured with them distributing bibles to motorcycle gang members. In 2013, he moved to Pierre to be with his mother, and after her passing made Pierre his own home.
His lifelong hobby was photography and he was an avid member of the Pierre Photography Club. His other interests included volunteering and supporting the work of Habitat for Humanity and the Pierre Pantry foodbank.
He is survived by his daughter Ciciley Ruark Basse and husband Brennan Basse, four grandchildren Jayci, Jessen, Dallon, and Dayton of Thermopolis, WY, two sisters Robin Ruark Brothers of Knoxville, TN and Margo Ruark of Berwyn, IL, Hilary Friese of New Mexico, as well as cousins, nephews and nieces.
A barbeque meal (Gordon's favorite food) will be served at 5:30 p.m. Monday, March 22, 2021 at the Pierre Senior Center, 401 West Pleasant Drive, Pierre, SD with the memorial service beginning at 7:00 p.m. Please RSVP if you plan on attending in person.
A graveside service is planned later in Wyoming.
Dear Gordon, we miss your love and laughter and wish you Godspeed in this next chapter of everlasting life.
In lieu of flowers the family requests you send donations to Oahe Habitat for Humanity, https://www.oahehabitat.org/ or drop off a food donation at the Pierre Pantry/Feeding South Dakota, 20562 Grace Avenue, Pierre, SD 57501-5660.