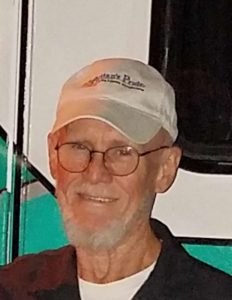 Veryl (Ted) Gene Larson
August 23, 1944 – March 5, 2021
Veryl (Ted) G. Larson, age 76, formerly of Harrisburg, SD, died suddenly at his home in Edinburg, Texas on March 5, 2021. A Celebration of Life will be held Saturday April 17, 2021 at Anderson Jones Corcoran Funeral Home in Harrisburg with family present from 1:00 P.M. – 3:00 P.M.
Veryl (Ted) G. Larson Was born on August 23, 1944 to Kenneth (Bud) and Jessie (West) Larson in Sioux Falls. He grew up in Harrisburg, SD, where he attended school until enlisting in the United States Air Force.
Veryl entered the United States Airforce on March 18, 1963 at Lockwood Airforce Base in San Antonio, TX and proudly served during the Vietnam War until December 15, 1967. Upon honorable discharge he worked for several years at Larson's Motors with his younger brother Randy, where they had an arcade, which at the time, was the only place in Harrisburg the kids could go have fun. Veryl and Randy enjoyed having the kids there. He later served in the Air National Guard and worked for the United States Postal Service.
He moved to Texas in 1988. He had a passion for music. He and his wife, Michele, entertained hundreds across the Rio Grande Valley, with their singing. He especially liked singing songs by Johnny Cash, Merle Haggard, and George Jones. He enjoyed riding motorcycle with his wife and belonged to the lower Rio Grande Valley Ghost Riders Club for many years. He spent time in the summers camping with his children and grandchildren, playing his harmonica around the campfire, and could often be found visiting with friends over a cup of coffee. Homemade bing bars were always a special treat he enjoyed at Christmas, from his daughter Kathy. He also enjoyed tinkering in his shop and loved his three cats Rilee, Rowdy and Spooky, who he rescued, Rilee being his favorite.
Left to cherish his memories are his wife Michele, mother Jessie, daughters Kim (Chris) and Kathy (Steve), sons Kevin (Kristin) and Kody (Angela), stepdaughter Meghan, brother Randy (Rosan), twelve grandchildren, two great grandchildren, and many cousins, nieces, nephews, and friends.
He was preceded in death by his father Kenneth (Bud) and brother Terry.
The family thanks you in advance for your kindness and memorial gifts, which will be directed to assist the family with funeral expenses and in honor of Veryl, the family will donate to the local suicide hotline. Memorials can be sent to Anderson Jones Corcoran Funeral Home P.O. Box 96 110 E Willow Street Harrisburg SD 57032.