Service: 11:00am Wednesday, February 16, 2022 at Harrisburg United Methodist Church.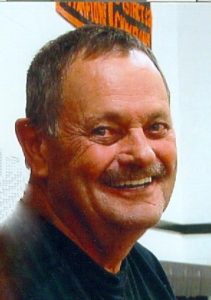 Heaven gained another fisherman and gardener when David Jerome Harris, 81, passed away on February 9, 2022 at Dougherty House in Sioux Falls, after a lengthy battle with pulmonary fibrosis. Dave was born in Sioux Falls on December 30, 1940, one of 8 children, to John G. and Regina (Geraets) Harris.  He grew up on the family farm and attended Harrisburg schools, graduating in 1958.  He went on to get his Bachelor's Degree from South Dakota State University in 1963; he received his Master's Degree from the University of Oregon in 1967.  He began his teaching/coaching career in Muscatine, IA in 1963 and then Arvada West HS in Arvada CO in 1970, where he became the head of the math department and also coached football. He was able to coach two of his son-in-laws. After his retirement in 1995, he continued to substitute teach until Joyce was able to retire in 2004.
In 1962, Dave married Carol (Graverson) Helzer. They lived in Muscatine, Brookings and Arvada. While at South Dakota State University in 1963, Dave and his wife Carol welcomed their daughter Cheri. As a family, they lived in Arvada, CO until their divorce in 1977.
Dave reconnected with a prior high school flame – Joyce Johnson (married Bunkers)- and they were wed in June 1979.  Joyce and her 2 girls, Stephanie and Stacie, moved to Arvada, CO.  All 3 daughters graduated from Arvada West.
Dave was a great story teller ("the upshot of it is"), and the teammate you wanted for Trivial Pursuit since he was so full of useless information.  He enjoyed camping, fishing, and hunting with his friends and family. Dave and Joyce enjoyed traveling, including trips to Alaska, Hawaii, Mexico, Branson, and other beautiful locations. He was a great friend to many and was a faithful member of the Kiwanis Club in Arvada and then in Fruita, CO. Dave and Joyce moved to Fruita post-retirement to be closer to the grand kids.  They were regular fixtures at football games, lacrosse matches, volleyball games and other activities. In 2013, Dave and Joyce moved back to Sioux Falls to be closer to their extended families. On most summer days, you could find him on the family farm, working (or directing) in the huge garden with his brother Terry. He also enjoyed many fishing trips – with his friends to Yellowstone Lake, with his brothers to the river, with son-in-law's and/or nephews – in addition to spending time at Lake Hendricks with Joyce's brother Wayne and family.  Dave and Joyce also enjoyed many winters in the south Texas warmth and sun, meeting many new friends in both their fifth wheel and then the park model they purchased a few years ago.
Grateful for having shared in his life are his loving wife of 42 years, Joyce; his daughters Cheri (Mickey) Dubs of Sterling, CO, Stephanie (Mark) Finken of Woodbury, MN, and Stacie (John) Jay of Grand Junction, CO; his 5 grandchildren: Paul (Cambriea) Clayton, Alex (Sierra) Jay, Morgan (Kenzie) Dubs, Chris (Candace) Jay, and Kacie Jay.  He is also survived by 3 beautiful great-granddaughters: Charlotte and Emelia Dubs, and Reese Jay. He is also survived by his brothers and sisters, Danny (Joan) of Harrisburg; Allan (Patti) of Littleton, CO; Terry (Linda) of Sioux Falls; Jeannine Thiele of Peoria, AZ; Linda Rosencrants of Winchester, VA; Barb (Dale) Mannes of Sioux Falls, SD; and many nieces and nephews, as well as other extended family.  Dave was preceded in death by his parents and brother Jack. We will all greatly miss his wisdom, his stories and his presence.
Special thanks to everyone who cared for, entertained and spent time with Dave during his time at Dougherty House. He complained there were so many
Funeral services will be 11:00am Wednesday, February 16, 2022 at Harrisburg United Methodist Church. Visitation will be Tuesday, February 15, 2022 at Anderson Jones Corcoran Harrisburg Chapel, Harrisburg, SD with family present to greet friends from 5:00-7:00pm.
The family request masks be worn at the visitation as well as the service.
Memorials may be directed to Harrisburg United Methodist Church or Dougherty Hospice House.
Virtual link to watch Mr. Harris' funeral can be found at:
https://www.harrisburgumc.com/