Service: 10:00 AM -1:00pm Saturday, April 16, 2022 at Anderson Jones Corcoran Harrisburg Funeral Chapel.
Life Sketch (written by Yassah Camara)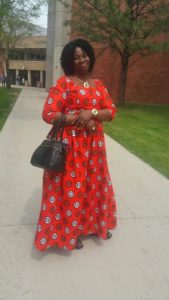 Maley Koboi, age 45, of Liberia, entered her heavenly home on March 30th, 2022 at Avera Mckennan Hospital.
Maley Koboi was born August 21st, 1976 at Phebe Hospital in Liberia to David and Gayduo Koboi. Maley was Baptized and confirmed in the Lutheran faith.
"From the day I was blessed with another girl, Maley never gave me trouble, even in pregnancy. At about 10 years of age, and beyond, Maley was a child that listened to what I asked of her, and obeyed me. From the day she was born, she has NEVER gotten into trouble or argued with anyone. She was always humble in life. She disliked arguing. She was a woman of peace, not conflicts.
Maley was named after her aunt, her fathers sister. Maley means "mother to all."
Maley came to the United States in 2010 with her brother James. Maley was active in gospel music, and church. She loved to dance, and believed in living life to the fullest. Maley moved to Brookings in 2011, and was living with her siblings while working at Twin City Fan. Her brother Zarwu was a manager at Twin City Fan and helped get her a job. Maley later moved to Sioux Falls, in 2017, and got a job at Avera Mckennan Hospital, where she worked until she was diagnosed with cancer. Maley enjoyed watching African movies, shopping, cooking, and spending time with her son Eddie.
In 2017, she married Mustapha Dorley in Brookings. Maley lived in Brookings from 2011 until she moved to Sioux Falls in 2017 .
She is survived by her child Eddie Mulbah, four sisters, three brothers, and a long list of close family relatives. She will live on through all of us.