Service: 11:00 am Saturday, July 30, 2022 at Harrisburg United Methodist Church. Visitation will be Friday, July 29, 2022 from 4:00-7:00 pm at Anderson Jones Corcoran Harrisburg Funeral Chapel.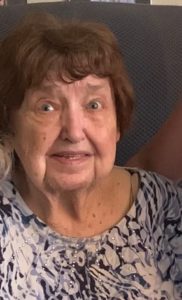 Beverly J. Brush, 89, passed away Sunday, July 24, 2022 at Edgewood Vista Assisted Living.
Beverly J. Gillies, daughter of Reginald and Ethel (Adolph) Gillies was born in Watertown, SD on January 11, 1933.
Bev grew up on a farm SW of Clark, SD, and graduated from Clark Highs School. Bev worked various jobs in Clark, SD following high school.
Bev was united in marriage with Robert Brush on August 14, 1958 in Mobridge, SD.  The couple moved to Rock Rapids, IA where Robert was a police officer.  They moved to Sioux Falls, SD and then to Harrisburg, SD in 1967.  Bev worked in accounting at KSFY, Midwest Coast Trucking and then finally at Food and Fuel in Harrisburg, SD.
Bev and Robert enjoyed camping, watching "Cubs" baseball, and the game show channels "Wheel of Fortune".  She was involved with Harrisburg United Methodist Church on different committees and church families.  She especially enjoyed spending time with her family and grandchildren.
Grateful for having shared her life are her children, Kathy (Glen) Danielsen, Doug (Dee) Brush; sister, Shirley Dreher, Clark, SD; brother-n-law, Louie Brush, Clark, SD; 11 grandchildren, 9 great grand children; 17 great great grandchildren and a host of other relatives and friends.
She was preceded in death by her parents; husband, Robert; sisters,  Maxine Dreher, Barb Marko; and sister-in-law, Joyce Brush.
Services will be 11:00am Saturday, July 30, 2022 at Harrisburg United Methodist Church.  Visitation will be Friday, July 29, 2022 from 4:00-7:00 pm at Anderson Jones Corcoran Harrisburg Funeral Chapel.www.harrisburgchapel.com