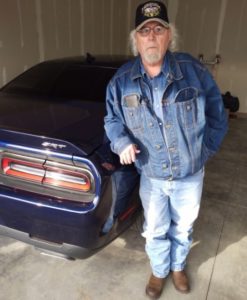 Charles K Goldsmith AKA Charlie, Sioux Falls, SD passed away peacefully on April 19, 2023, after a long struggle with lung disease. He was surrounded with the love of his friends at the time of his passing.
Charlie is preceded in death by his daughter, Whitney Rae; his Grandparents and several other family members and friends.
He is survived by his two sons Donald Pinkston of Madison SD., Ryan Goldsmith of Rapid City SD., Grandsons Harvey and Harley., Aunt Shirley of West Virginia., Cousin Mike Helms of Ohio., Many Brothers and Sisters from Freedoms Gate Church Sioux Falls, SD., and his Roommates Burt and Ted.
Charles was born on January 9, 1957, to Linda Lee Johnson Goldsmith in Clarksburg, West Virginia.  He spent most of his younger years in the hills of West Virginia. Later in life he moved to South Dakota. Charlie was the guy everyone wanted to be friends with "GOOD TIME CHARLIE"
He lived life on the edge and enjoyed every minute. He loved fast cars and riding motorcycle. Charlie loved hunting and fishing and just hanging out in the wilderness.    He is Loved by so many and will be missed so much.
Celebration of life service will be held 2:00pm Sunday, May 21, 2023 at Freedom Fellowship in Sioux Falls, SD.