Corrine Gifford Kuehl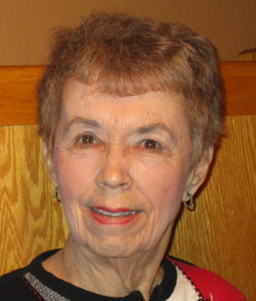 Corrine "Corky" Kuehl passed away on January 13, 2023 after a lengthy illness.  A memorial service will be held at Gloria Dei Lutheran Church, 5500 E. 57th Street, Sioux Falls, on Monday, June 5 at 2:00 p.m.
Corky was born on August 8, 1933 to Glenn Gifford and Alma (Skattebol) Gifford in rural Beresford, South Dakota.  During her early years, she and her parents lived with her father's parents (Jay and Ida Gifford) on a farm east of Beresford.  When her father began work on a road construction crew, the family moved quite frequently to where the crew was located, including Black Elk, South Dakota where her father helped to build the first paved roads in the Black Hills; Murdo, South Dakota, where rattlesnakes invaded the food storage areas; and Darlington, Wisconsin.  The family permanently settled in Canton in 1941.  Her father opened a mechanic's shop, and they later purchased a home after living in an apartment above the old Sioux Valley News.
Corky attended Canton Public Schools, beginning in third grade.  She had many wonderful memories from her high school years, including playing her father's saxophone, singing in glee club, participating in multiple school organizations, and enjoying many good times with her classmates.  She graduated from CHS in 1951 and maintained her connections with her close-knit class by serving as the coordinator for class reunions, as well as enjoying many phone conversations throughout the years and gathering local classmates for impromptu get-togethers when a distant classmate was in the area.  Her classmates meant the world to her.
Upon graduation from high school, she attended McKennan School of Nursing in Sioux Falls.  This intense training took her to satellite training sites in Aberdeen and in Yankton.  She returned to Canton to work in Dr. Ted Angelos' practice, using some of her income to pay for college for her brother Curt to attend Augustana College in Sioux Falls.
Corky married Kenneth Kuehl on September 23, 1956.  Together, they purchased a farm southwest of Canton in 1960.  She continued to use her nursing degree shortly after the birth of her children, first working the overnight shift one evening a week at Canton Inwood Hospital (now Sanford), then gradually working full time.  Corky is fondly remembered for her patience, kindness, and thorough care for patients during their hospital stays, including the impromptu delivery of several babies.  She continued her education to become a certified cardiac nurse.  In addition to her work at Canton-Inwood, she worked part time in Sioux Falls and at Fellowship Village in Inwood, where her parents welcomed seeing her every day.
As a farm wife, she carried many a warm, home-cooked meal to the fields during the busy times of the year.  In later years, Corky and Kenny travelled to California and Hawaii during the farming off-season, as well as attending a multitude of adult children's events.  She was a loving and consummate champion of her children.
She is preceded in death by her parents and her brother Curtis Gifford. She is survived by her husband, Kenneth, sons Mark and Michael, both of Canton, and Cynthia (David) Ellison of Parker, Colorado, as well as her grandchildren/great grandchildren:  Kjersti (Daniel) Nayar/Rowan, Leif, Finn; Alexandra (Zachary) Rodasti/Riley, Asher; Lindsay (John) Cristobal/James, Elise; and Annika (Robert) Scott/Lucy, all in the Denver, Colorado area.  She is also survived by her sister Glennice Lutter of Rapid City, as well as numerous nieces and nephews.
Memorials may be directed to the Forest Hill Cemetery Fund in Canton, South Dakota or a charity of your choice.