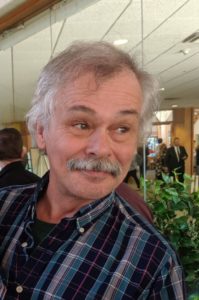 Brian William Ayotte, age 68 of Harrisburg, SD passed away  peacefully in his home in the early morning of September 5th, 2023.  He fought a courageous battle against bile duct cancer, a rare and aggressive cancer, for over a year.
His greatest joys were checking for "bugs" under his grandchildren's feet, being a grandfather for his beloved grandchildren and watching them grow. He always had a "dad" joke ready to share.
He was a member of the Carpenters Union for many years and made a living in construction, working on many, many buildings in and around Sioux Falls.  He was always working on a home D.I.Y project of some kind.  His retirement job was working as a custodian for the Sioux Falls School District. He really enjoyed his job and the people there.
He was the son of Susie (Boldt) Symes and Elwood Ayotte of Sioux Falls, SD.
He is survived by his wife, Theresa (Bartscher) Ayotte, his two sons, Jacob and Lucas Ayotte and daughter Anna Hudelson; his siblings Daryl Ayotte, David Ayotte, Jackie Hult, Jan Alton, Donna Waldhalm, Amy Edson and nieces and nephews.
Brian was preceded in death by his parents, his sister, Brenda Weeg; and nieces, Leslie & Jaden.
Family, friends and dear acquaintances will join in a Celebration of Life Visitation for Brian at the Museum of  Visual Materials Sunday, Sept. 17th 2-4pm 500 N. Main Ave, Sioux Falls, SD.