Visitation: Visitation will Tuesday from 5-9 pm, with family present 6-8 p.m., at Anderson -Jones-Corcoran in Harrisburg.
Service: A celebration of life service will be held at 10:00 a.m. Wednesday, January 16, 2012 at Anderson-Jones-Corcoran Funeral Chapel, Harrisburg, SD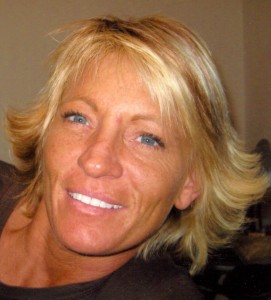 Kari M. Sutter, 41, passed away January 13, 2013 at the Dougherty Hospice House in Sioux Falls surrounded by her family. Kari Maureen Sutter was born on Dec. 20th, 1971 in Sioux Falls, SD to Kenneth E. and Sharon C. (Sorensen) Sutter. Kari attended Lincoln High School in Sioux Falls and continued her education at Huron University and Colorado Technical University. In 2003 she started KMS concrete and loved spending time behind the scenes maintaining the company books. Her love of the outdoors extended to all seasons and included her work. If it was snowing you would be sure to see her out plowing snow for businesses or just helping out a friend or family member in need. Kari received a degree in Criminal Justice graduating with Highest Honors in January 2011. Kari enjoyed: hunting, fishing, Taekwondo, beading, and spending time with family and friends. Her passions included: her dogs, cooking, gardening, canning, going to NASCAR and Outlaw Sprint Car races. Her friends and family grateful for having shared in her life: daughter KarLee (Zach) Gutnik, son Michael Kerska, ex-husband and partner Allen McLaughlin, step-son Cole (Ashley) McLaughlin, step-son Corde McLaughlin, step-son Cade McLaughlin, Father Ken (Ruthi) Sutter, brother Scott Sutter (Sherry Hofer), brother Jeff (Julie) Sutter, and her very best friend of thirty three years Tracy Wuertz. Kari was preceded in death by: Mother Sharon (Sorensen) Rollag, grandmother Maureen (Eiserman) Fenstra, grandparents Kenneth and Helen Sutter, and grandfather Russel Sorensen.
A celebration of life service will be held at 10:00 a.m. Wednesday, January 16, 2012 at Anderson-Jones-Corcoran Funeral Chapel, Harrisburg, SD.  Visitation will Tuesday from 5-9 pm, with family present 6-8 p.m.,  at Anderson -Jones-Corcoran in Harrisburg.  www.harrisburgchapel.com