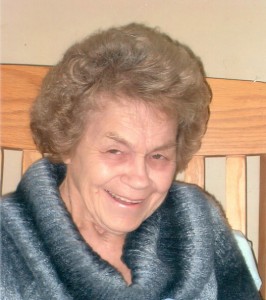 Ellen Elsie Kwallek, 73, passed away Tuesday, June 21, 2016 at home surrounded by her family.
Funeral Service will be 11:00am Friday, June 24, 2016 at First United Methodist Church.  Visitation will be 5:00-9:00pm Thursday, June 23, 2016 at Anderson-Jones-Corcoran Harrisburg Chapel with family present from 6:00-8:00pm.
Ellen Elsie Zwart was born to Case and Elsie Zwart December 25, 1942 at Howard, SD.  She grew up and received her education there.  Ellen married Kenneth Henry Kwallek on September 2, 1962.  Kenneth passed away on October 6, 2007.
Ellen worked at Shipley's, Lemmon's, Luther Manor and Norwest Bank before retiring after 22 years.  After retirement she went to work for Primrose in Sioux Falls.
Her biggest joys in life came in spending time with her family.  She loved family vacations, cooking for family get together's and spending time with her kids, grandkids, and great grandkids.   Ellen spent countless hours in her kitchen baking cookies, banana bread and other sweets and always sent plenty home with people.  She also kept plenty on hand for when the grandkids and great grandkids came to visit.
Ellen is survived by four children, Brad (Marsha) Kwallek, Kathi Nelson, Patti (Fritz) Underberg, Deanna Hanson; eleven grandkids, Dustin, Darrin, Erin, Samantha, Nicole, Jordan, Heather, Jessica, Lee Ann, Andrea and Kenny; Thirteen and half great grandkids, Maddysyn, Alex, Zayveyn, Treysen, Gavin, Baylee, Kaylee, Taye, Ava, Creighton, Isabelle, Kiera, Ace and a little girl due in September of 2016; two brothers Henry Zwart, Robert Zwart; two sisters, Alvina Cudmore and Susan Jones.
Ellen was preceded in death by her parents; husband, Kenny; great granddaughter, Alexis Stahl, one brother, William Zwart; three sisters, Nancy Roemen, Fran Vickery and Carrie Hauff.