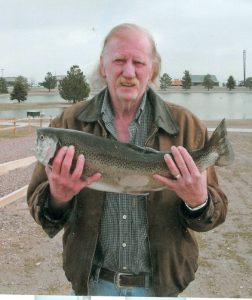 Doyle "Red" Van Cleave passed away on Wednesday April 17, 2019 at the age of 74 after a courageous battle with cancer. Red was born in Laramie WY on June 17, 1944 and grew up in Sidney NE, graduating from Sidney High School in 1963.  Red had a successful career for over 40 years as a locomotive engineer for BNSF and Union Pacific railroad.
Red's most treasured hobby was fishing. In his free time, you could find him at a nearby lake with a tackle box, fishing pole and a red beer. Red also had an ear for Country Music and wasn't shy about getting on stage singing with a band or singing karaoke. Red had a big heart and a passion for helping others. Red was known for his love of family, witty sense of humor and story telling, his bright blue eyes and his love for animals.
On April 8, 2007, he met his significant other Laurie Staples. Together they have spent the last six years in Sioux Falls SD with their four-pawed kids (Lucky, Tabatha, Charlie, Chloe "Little Butt").
Grateful for having five wonderful children and ten grandchildren. Survivors from his first marriage to Beverly, include Kevin W. Van Cleave (Melissa), Sheila Ochoa (Ricardo).  Survivors from his second marriage to Carol include Corina L. Schmidt (James), Jessica J. Hocum (Kris), Kyle P. Van Cleave.  Grandchildren include Nichole Hunter Stock, Jimmie Van Cleave, Zackary Ochoa, Angelo Ochoa, Lauren Logan, Destiny Schmidt, Mya Schmidt, Landen Hocum, Lylah Hocum, Lani Hocum.
Red is also survived by his two younger brothers Lyle Van Cleave (Sharon), and Randy Van Cleave (Cathy). He is proceeded in death by his parents Wayne "Pete" Van Cleave and Cleo Van Cleave.
Cards and condolences can be directed individually to the family or at PO Box 444, West Fargo, ND 58078.
Celebration of life to be held in Cheyenne, WY in July 2019.