Visitation: Visitation will take place at Harrisburg United Methodist Church on Thursday, December 19, 2019 from 4:00-6:00 p.m.
Service: Angie's funeral service will be at 2:00 p.m. on Friday, December 20, 2019 at Harrisburg South Middle School.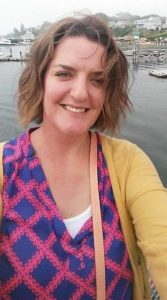 Angela Worley Plaine, 42, passed away on December 12, 2019 at Ava's Hospice House surrounded by her family after a courageous battle with cancer.
Visitation will take place at Harrisburg United Methodist Church on Thursday, December 19, 2019 from 4:00-6:00 p.m.
Angie's funeral service will be at 2:00 p.m. on Friday, December 20, 2019 at the Harrisburg South Middle School where she was a beloved science teacher. The family invites you to join them after the service for food and fellowship at the Harrisburg United Methodist Church.
In lieu of flowers, please consider a memorial to the Angie Worley Plaine Harrisburg Educators Rising fund which provides scholarships to graduates going into the field of education.
Angie Worley Plaine, 42, of Harrisburg, SD, passed away December 12, 2019, at Ava's Hospice House in Sioux Falls, SD, after a courageous eight-month battle with neuroendocrine cancer.
Angela Anne Worley was born August 21, 1977, in Park River, ND, to Jim and LeAnne Worley. She attended school in Park River, graduating with the class of 1995. She was an outstanding athlete, being a part of the Aggies 1992 State Championship Volleyball Team. She was named to the All-State Tournament and All-State Volleyball teams in her senior year and was a Miss Volleyball Finalist. She also was a two-time selection to the All-District Basketball Team, and was a member of the National Honor Society.
Bismarck State College was her first stop after high school, where she played volleyball and basketball. After earning her Associate Degree there, she enrolled at Dakota Wesleyan University, Mitchell, SD. She was a member of the Tiger Volleyball Team, earning All-Conference honors her senior year. After graduating with a degree in biology, she worked one year at Ethan High School(SD) as a para-educator and started the volleyball program there. That position sparked her interest in education; she returned and enrolled at DWU to earn her teaching credentials.
Her first teaching position was at Kingsland High School in Spring Valley, MN. She taught biology and was the head volleyball coach for several years. She was named the Section Coach of the Year in her second season there. She earned her Master's Degree in Education from Winona State University. In 2009, she moved to Edmore, ND, and taught miscellaneous science classes there and was the head volleyball coach. While in Edmore, she met Andrew Plaine, a good friend of her brother's. They were married on June 24, 2011, in Grand Forks, ND. Soon after, they moved to Harrisburg, SD, and she began teaching 6th Grade Science at South Middle School and coached 7th Grade Volleyball. Their son, Oliver, was born December 28, 2012, marking the beginning of her favorite vocation-that of being a mother.
During one of her first years of teaching at HSMS, she taught a class on Ecology. That seemed to light a spark in her that only grew brighter with time. She was passionate about "saving the planet", from not using plastic straws and bags, to picking up garbage, cleaning up our oceans and recycling. She shared this passion with her students and her family. A highlight for her during this time was an amazing ecology trip she took with some of her students, parents, and administration to Utila, Honduras. While there, she realized her dream of obtaining her scuba certification.
Angie is survived by her husband, Andrew, and her son, Oliver of Harrisburg, SD; her parents, Jim and LeAnne Worley of Jamestown, ND; brother Josh( Jennifer) of Walhalla, ND; her in-laws, Kirby and Susan Plaine of Aurora, SD; sister-in-law Karna(Ty) Nixon of Tea, SD; nieces and nephews Jordyn Worley( Conner Tetrault), Jagger Worley, Rayce Worley, Tristan Lee, Andrew Lee(Chelsea Rintala), Jaden Lee, Ava Nixon, Hank Nixon, and Louise Nixon; her husband's grandparents, Charles and Marilyn Anderson of Hallock, MN, and John Plaine of Menahga, MN. She is also survived by many aunts, uncles, and cousins; her teaching family in Harrisburg, her many friends, and her awesome students at HSMS. She was preceded in death by her grandparents, Melvin and Helyn Mertens, Don and Corinne Worley, her uncle Mike Mertens, niece Courtney Lee, and her husband's grandmother, Adrienne Plaine.