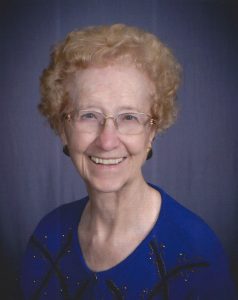 Helen Dodd Hendrix 
Helen Jean (Dodd) Hendrix, 96, died on March 15, 2021, in Coeur d'Alene, Idaho.  A memorial service honoring Helen's life will be held at 2:00 P.M. on May 1, 2021, at the United Methodist Church in Harrisburg, South Dakota.  The Hendrix family will officiate and provide special music for this celebration.  Interment: Pleasant View Cemetery, Harrisburg.
Helen Jean Dodd was born on a farm in La Valley Township southwest of Harrisburg, South Dakota to Edna Louise (Zebarth) Dodd and Glenn Carl Dodd.  She attended Shindler Country School in Lincoln County and she was the valedictorian of the Harrisburg High School Class of 1942.  After high school Helen lived in Sioux Falls with her cousin, Clara Schmidt. She attended Nettleton College and received training in office and secretarial skills. Helen started her first job at Metropolitan Life Insurance in August 1943.
On November 18, 1945, she married Glenn Homer Hendrix in rural Harrisburg.  The couple lived in campus housing at the South Dakota School for the Deaf for the first five years of marriage.  Helen worked as a secretary in the administrative office and Homer worked for the school farm.  In 1950 they moved to a farm south of Shindler where they farmed and began to raise their family.  They moved to the town of Harrisburg in 1960.
From the late 1950's until 1987 Helen worked as a secretary in a variety of jobs–Pathfinder Atomic Power Plant, State Board of Pardons and Paroles, office of orthopedic surgeon Dr. Robert Van Demark Sr., and 20 years at the Veteran's Administration first in the Outpatient Department and then many years in the Office of the District Counsel.  In their retirement Homer and Helen started a small retail business, "Wood 'N Plates".  These jobs were like "continuing education" for Helen who was always an excellent student. She learned a great deal in the fields of law and medicine as she processed records and correspondence in her work.
Helen not only had a career, but she was a wonderful wife and mother. She encouraged her family to be the best that they could be in academics, music, and character. She responded to God's voice in her life and this was a key factor in her whole family coming to faith in Jesus Christ.
Helen had several hobbies. She loved animals. During her lifetime Helen had dogs, cats, sheep, chickens, rabbits, a pony, a robin, and even two pet raccoons. She had a huge vegetable and fruit garden where she perpetually used new methods to attain a bountiful harvest of delicious produce to share with family and friends. She discovered monarch and black swallowtail butterflies could be raised in her garden if she let milkweed and dill weed grow.  She put milkweed leaves or dill weed sprigs with tiny caterpillars into a container and observed dozens of metamorphoses of caterpillar to butterfly and she shared this "blessed" event with friends and family. She liked her plate collection so much that she opened a store to exhibit and sell plates. She joined a line dancing class at the senior center and spent over a decade enjoying the weekly exercise. Later in her life Helen's favorite hobby was doing word search puzzles–she said it "kept her out of mischief".  She worked on word searches until the day before she died.
In January 2009 Helen moved away from South Dakota where she had lived her entire life to live with her daughter, Jeanne Hoyer, in Modesto, California. In October 2020 the Hoyers and Helen moved to Post Falls, Idaho where Helen lived until her passing on March 15, 2021.
Helen was an active and faithful member of several churches during her life:  Harrisburg United Methodist, Sioux Falls Free Methodist, Linwood Wesleyan, Modesto Free Methodist, and Journey of Hope in Post Falls. Helen was in the Mary Circle at Harrisburg United Methodist and taught the Bible lesson for many years.  She taught children's Sunday School and Wednesday night classes at Sioux Falls Free Methodist.  A highlight of her life was traveling to Israel with a group from Linwood Wesleyan where she walked where Jesus walked and she was baptized in the Jordan River.  Helen faithfully attended Sunday School, Worship and Bible Studies and always had a thirst for the Word of God.
Helen was preceded in death by her parents, Glenn and Edna Dodd, her husband, Homer Hendrix, her brother, Lynn Dodd, and her eldest son, Glenn Hendrix. Helen has two surviving sister-in-laws:  Joyce (Hendrix) Fields, and Barbara (Hendrix) Gough.
Helen is survived by her children:  Glenn's wife, (Shirley Yeoman), Paul (Cindy) Hendrix, John (Randi) Hendrix, Jeanne (Brock) Hoyer, and Lois Smith.  Thirteen grandchildren: Sybylla Yeoman Hendrix, Katie (Jason) Sims, Kelsey Hendrix, Joey (Elizabeth) Hendrix, David (Sarah) Hendrix, Michael (Emily) Hendrix, Nathaniel (Jackie) Hendrix, Amber (Jason) Carr, Brian (Lindsey) Hoyer, Nolan (Daisy) Hoyer, Blake (Stephanie) Smith, Laura Smith, and Rachel Smith.
Nineteen great grandchildren: Ellie, Kenzie, and Kade Sims, Lucy, Amos, and Theodore Hendrix, Forest and Alden Hendrix, Elias and Asher Hendrix, Reese, Zoe, and Eva Carr, Journey, Capri, Haven, and Rhythm Hoyer, Toby Hoyer and his baby sister due in August 2021.
Memorial donation suggestions 1) The Union Gospel Mission of Sioux Falls, 701 E 8th St., Sioux Falls, SD 57103,
website, ugmsiouxfalls.com  2) Our Daily Bread, 1730 Race St., Cincinnati, OH 45202
Funeral Home: Bell Tower, Post Falls, ID.
Online obituaries  heritagesfsd.com and harrisburgchapel.com