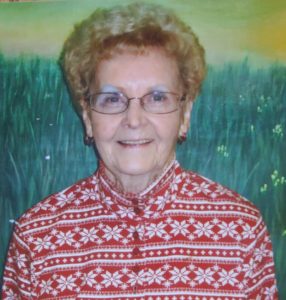 Jessie Lucile Larson, 97, passed away Sunday, July 23, 2023 at Good Samaritan in Canistota, SD.
Jessie Lucile West, was born October 3, 1925 to Charles Henry (Harry) West and Lucy Dell Berry on a farm near Harrisburg, SD.  She grew up in Harrisburg and attended Harrisburg High School.
Jessie was united in marriage with Kenneth Larson on December 6, 1942 in Harrisburg, SD.
Jessie worked in retail sales at K-Mart for 11 years and retired in 1977.
Jessie resided in Harrisburg, SD  and spent several years wintering in Texas.
Survivors include her son, Randy Larson and his wife, Rosan; 7 grandchildren; 17 great grandchildren; 3 great great grandchildren.
She was preceded in death by her parents, Charles and Lucy; husband, Kenneth in 1991; two sons, Veryl, and Terry Larson; and brothers, Elvin, and Lyle West; sister, Grace Aleck.
A celebration of life visitation will be held Friday, August 25, 2023 at Anderson Jones Corcoran Harrisburg Funeral Chapel from 2:00-4:00pm.